The Importance of Omni-Channel Solutions in a Contact Center
Have you ever wondered about the difference between multi-channel and omni-channel communications? Multi-channel offers multiple lines of communication individually, while omni-channel combines all those channels into one single experience. They may sound similar, but they create very different customer experiences.
Managing the All the Communication Channels
We now use dozens of channels to communicate with customers – phone, physical stores, email, webchat, web portal, social media, forums, communities, etc. It is critically important to take advantage of all the potential channels available, to strengthen your brand image as a company that truly cares about their customers. But with multi-channel solutions, most of these channels are managed and operated separately.
Unfortunately, these channels often provide different answers or content for the same questions or issues. This "Knowledge Management" issue has been a key challenge for contact centers over the years.
Customers don't understand or care that all these channels do not, or cannot, operate together. After all, to them, it's all the same company. And any lack of smooth functionality is a strike against a company's reputation. You can often hear their frustration in classic comments like:
"I just answered those questions [on your Interactive Voice Response]...why do I have to repeat them to you?"
"I already was online and wasn't able to find out when my package shipped..."
"I was chatting with someone already who told me...why don't you know this already?"
With multi-channel solutions, it can be complicated for our customers to get answers or help. They often have to repeat themselves over and over, depending on the channel they opt-in to. The graphic below makes it easy to see the difference between multi-channel customer experience and omni-channel experience.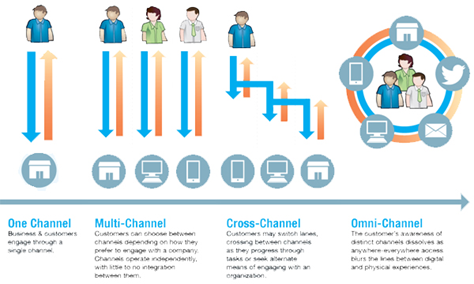 Think of multi-channel as an operational approach – the multiple (separate) ways you allow your customer to complete a transaction. Omni-channel, however, approaches communication from the customer's standpoint, orchestrating their experience across all channels so that it is seamless, integrated and consistent. Omni-channel anticipates that customers may start in one channel and move to another as they progress to a resolution.
If you need proof that delivering a seamless, integrated, consistent omni-channel experience is now critical, just look at the numbers. The chart below comes from Aberdeen Group's 2013 whitepaper, "Omni-Channel Customer Care."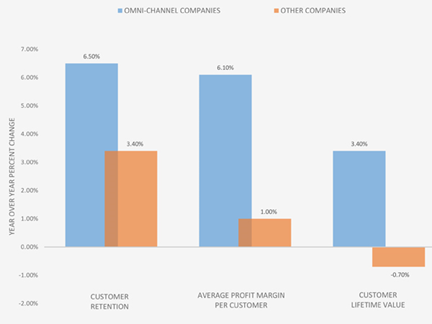 Since 2013, omni-channel has grown significantly and continues to be the trend of the future for call centers. It connects all the ways we talk to our customers into one seamless journey, making it easy to implement the latest best practices in customer service. If you outsource your call center, insist on a partner that uses this technology.
It All Comes Down to Improved Customer Service
We sat down with Antony Crowder, Systems Administrator here at The Connection, to learn more about omni-channel technology and how it can be used. Watch the video here. His key point? Flexibility.
"If a customer is interacting with a business via web chat and they decide to call for help mid-conversation, they will likely not talk to the same person on the phone as they were chatting with online. However, omni-channel technology allows customers' calls to route directly to the same agent they were conversing with online. This streamlines the customer service experience because the agent already knows about the customer's questions or needs." That's a plus for the agent as well as the customer.
Omni-Channel Opens More Doors
With omni-channel technology, you can add SMS (Short Message Service, or text). SMS is a quick and easy way to keep your customers engaged with your company. You can create a mailing list and send texts to those who have opted-in with coupons, messages about upcoming events, order status updates, or for quick questions. 90% of business leads would rather receive a text message than a phone call, and the average response time for a text message is just 90 seconds.
Omni-channel analytics improve the customer experience by providing valuable insight into each customer's journey – why they reached out, which channel they chose to use, and which channel the issue was ultimately resolved on. Add CRM data to the equation, and agents also have insights about which products a customer currently has, their buying cycle stage, their lifetime value, etc.
With this data, agents can offer intelligent support that anticipates and addresses the customer's needs. That strengthens both trust and loyalty.
Why risk disappointing customers? Omni-channel access provides comprehensive integration that assures your customer a consistent, seamless experience no matter how, when, or where contacts occur. That keeps customers engaged, strengthens your brand and increases sales.
To learn more about how we're using omni-channel at The Connection, give us a call at (800) 883-5777 or drop us a line.
Share this post